Preschool chairs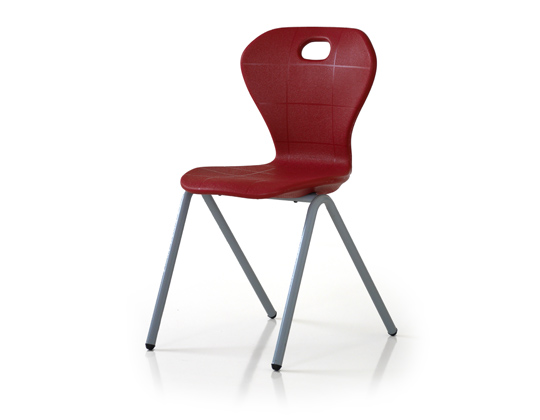 Forma 4 legged chair
The Forma 4-legged chair is an ergonomically designed chair with a four legged frame, specifically engineered to provide good postural support to young growing students. It features a textured, double walled plastic polymer shell with contoured ergonomic comfort and a grip hole. The angular, stylized frame, made of epoxy-finished metal has 4 legs that ensure a good balance. This comfortable and sturdy chair is scribble-proof and stackable, making it the ideal classroom chair. It is offered in 5 sizes to suit every age and height group. The Flex table is specially designed to match this chair.
Specifications
Frame round steel tubes finished with an epoxy powder coating
Seat shell a blow moulded, double-walled plastic polymer for comfortable sitting with air cushion effect. It is anatomically shaped with a grip hole in the backrest and a scribble-proof texture.
Glides heavy duty and abrasion resistant glides which are injection moulded with nylon pads
Plastic colours blue | wine red
Special features
Robust and durable
No sharp edges or corners
A stable, sturdy and ergonomic design
Dimensions
Height  30 | 34 | 38 | 42 | 46 cm