Classroom tables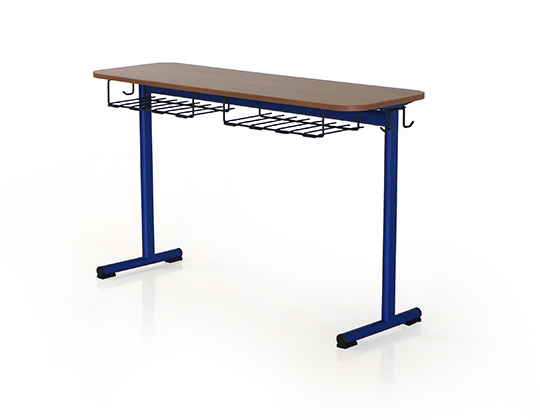 Solo table
Solo is a cost effective option for the classroom. It features a powder coated frame with tubular feet and minimalistic glides.  The table top offers durability, with a high pressure laminate top with PVC edge and straight, right angular edges. It provides storage in the form of a book tray, as well as bag hook on the side.  Ether is available in single and two seater versions in a variety of size and colour options.
Specifications
Frame steel tubes pre-treated and finished with epoxy powder coating
Table top 18 mm particle board finished with high pressure laminate and PVC edges. All the corners are right angular and straight.
Book tray spot-welded wire tray made of thin steel rods
Bag hook a bent steel rod welded to a punched steel bracket
Feet tubular feet with injection moulded abrasion-resistant nylon glides
Dimensions
Length
Single seater 60 | 70 cm
Double seater 100 | 110 | 120 cm
Width 40 | 50 cm
Height 52 | 58 | 64 | 70 | 76 cm